Anne Stewart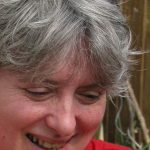 Anne is the founder of www.poetrypf.co.uk, which showcases many of the best poets writing today. She is also the Administrator for the Second Light Network. She won the Bridport Prize in 2008, and her poetry has been translated into German, Italian and Romanian.
Sample poem: Nightscape
Oversteps publications
The Janus Hour (2010)
Extract from "Body Language"
Give me silky legs glistening in the sun,
bikini line and oxters done and no shame
for the dishonest shape-shifter I've become.
Recent news
Anne Stewart is one of the judges for the Barnet poetry competition

[10-Nov-16 ]

Anne Stewart won the Poetry on the Lake's Silver Wyvern competition.

[15-Oct-14 ]

Anne Stewart is this year's winner of the Silver Wyvern prize at the Poetry on the Lake Festival in Orta, Italy.

[9-Sep-14 ]

Congratulations to Anne Stewart (The Janus Hour, 2010) who was longlisted in the National Poetry Competition this year.

[16-Mar-12 ]

On Friday 18th March, Oz Hardwick, Anne Stewart and Alwyn Marriage will be giving a poetry reading at the Oxfam Bookshop, 69 Low Petergate, York. Admission is free, but donations to Oxfam will be welcomed.

[17-Mar-11 ]